Discover more from Discourse
Where Ideas Meet. Subscribe now to receive your free digital copy of Discourse's Abundance Agenda print edition.
Over 14,000 subscribers
Why Are Millions of Doses of COVID Vaccines Sitting in Warehouses?
People in Europe and elsewhere have been getting AstraZeneca's shots for weeks without incident, but that's not enough to win U.S. approval
The U.S. Food and Drug Administration has yet to approve the AstraZeneca and the Johnson & Johnson COVID-19 vaccines, even as millions of doses sit in warehouses and millions of anxious Americans await their turn to get vaccinated. So what's causing the delay? One of the concepts behind former President Donald Trump's Operation Warp Speed was to pay pharmaceutical companies upfront to develop and manufacture vaccines without knowing whether they would end up receiving FDA approval. The U.S. did just that: Back in May, it secured rights to 300 million doses of AstraZeneca's vaccine, and in August, it reached a deal for 100 million doses of Johnson & Johnson's vaccine, with rights to purchase another 200 million doses later. So it may not be surprising that a manufacturing plant in East Baltimore has "tens of millions of [AstraZeneca and J&J] doses that, for now, are being stockpiled with no date set for distribution," according to an article in the Baltimore Sun. As soon as the FDA approves AstraZeneca's and J&J's vaccines, the U.S. will immediately have tens of millions more doses ready to be injected into people's arms—and perhaps could have had many of them nearly two months ago. The U.K. approved AstraZeneca's vaccine on Dec. 30, and the European Union authorized it on Jan. 29. The U.K. started administering AstraZeneca shots on Jan. 4 and the EU began last week, so both now have three approved vaccines—Pfizer's, Moderna's and AstraZeneca's, while the U.S. has just two. AstraZeneca's vaccine has also been authorized in Argentina, Australia, the Dominican Republic, El Salvador, India, Mexico, Morocco and South Korea. The World Health Organization approved it on Monday. J&J submitted an application for its single-dose vaccine on Feb. 4, but an FDA advisory panel won't meet to discuss the request until Feb. 26. Approval seems likely and the company has said it's ready to start rolling out its vaccine as soon as the FDA signs off. This week, however, South Africa beat the U.S. to the punch, becoming not only the first country to approve J&J's vaccine but also the first to administer it. With AstraZeneca, things are more complicated. It began recruiting for a 30,000-subject study of its vaccine in the U.S. last September, but the results are still not in. The reason for the delay is unclear, but a spokesman for the company says it expects data from the U.S. Phase 3 trial to be available in the coming weeks, and once available, the company will provide it to the FDA. "At this time, AZ has not discussed emergency use authorization with the U.S. government" but is working to "gain approval for an effective vaccine as soon as possible." AstraZeneca hasn't yet applied to the FDA for authorization because the FDA apparently wants to see the data from the U.S. study.
Image Credit: Jens Schlueter/AFP via Getty Images
To be sure, assessing the effectiveness and safety of pharmaceutical products is an expensive and arduous process. The fastidious standards of the FDA help prevent harmful and ineffective drugs from reaching consumers. Even one death would undermine the public's faith in the vaccine. Nor does the FDA want to find itself forced to withdraw approval for a drug or issue warnings about its dangers after it has already been given to people. And even though millions of people in Europe have already gotten AstraZeneca's vaccine without experiencing extensive side effects, the FDA waiting for U.S. data "is not uncommon for vaccines or medications for which the vast majority of clinical studies were performed in more homogenous European populations, compared with the more diverse U.S. population," says Dr. Dean A. Blumberg, chief of the Pediatric Infectious Diseases Division of the University of California, Davis.
But in delaying AstraZeneca's vaccine is the FDA worried more about protecting its own reputation than protecting lives? It may view accelerating or modifying its process as too risky or as an invitation for other drugmakers to circumvent procedures when seeking FDA approval. But aren't the costs of inaction greater than the risks? And why isn't there more public and political outcry in the U.S. for the FDA to quickly move ahead with AstraZeneca's vaccine? Why aren't the doses sitting in warehouses going to other countries if the U.S. isn't using them? "The U.S. failure to authorize the AstraZeneca vaccine in the midst of a pandemic when thousands are dying daily and a factory in Baltimore is warmed up and ready to run is a tragedy and dereliction of duty of epic proportions," says Alex Tabarrok, an economics professor at George Mason University and the Bartley J. Madden Chair in Economics at the Mercatus Center. "The AstraZeneca vaccine should be given [approval] immediately and made available in pharmacies for anyone who wants it while continuing to prioritize Moderna and Pfizer [vaccines] for the elderly and essential workers." A spokeswoman for the FDA says the agency "can't comment on, confirm or deny the existence of applications" and that "FDA regulations do not allow staff to comment on investigational new drug applications, including any discussions that may or may not be taking place with a sponsor."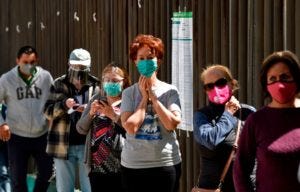 People queue to receive the AstraZeneca vaccine in Mexico this month. Image Credit: Alfredo Estrella/AFP via Getty Images Meanwhile, a major supplier for both AstraZeneca's and J&J's vaccines has been running at full tilt for months. Maryland-based Emergent BioSolutions produces a key substance—purified viral vectors—for the two vaccines in the U.S., which are then frozen at extremely low temperatures and shipped to delivery-technology companies, such as New Jersey-based Catalent, to be put into vials and packaged. Emergent BioSolutions began making the substance for AstraZeneca's vaccine in the third quarter of last year and for J&J in the fourth quarter. Sean Kirk, the company's executive vice president of manufacturing and technical operations, says its Baltimore Bayview facility is designed to make tens to hundreds of millions of doses and he doesn't expect any trouble in meeting the goal of 100 million doses of J&J's vaccine and 300 million doses of AstraZeneca's. "We are the U.S.'s primary bulk manufacturer for J&J and AstraZeneca and are at full commercial cadence," he says. AstraZeneca's vaccine does seem to have drawbacks. Citing concerns about its effectiveness against the South African variant of COVID-19, South Africa suspended plans to inoculate healthcare workers with the vaccine and will offer its stock to the African Union. Germany and other EU countries have said they won't use the vaccine for people over 65, and the FDA might concur as part of its approval. South Korea and the WHO, however, did approve the vaccine for people over 65. "I agree with the decision of U.S. regulators to wait until the U.S.-sponsored trial is ready before considering the AstraZeneca vaccine, given the confusion around what occurred in the international trial," says James C. Capretta, a resident fellow and the Milton Friedman chair at the American Enterprise Institute. "The U.S. trial has the potential to put many concerns—here and in other countries—to rest if the vaccine produces good results, as I think many experts expect it will." He's referring to the news in November that some participants in the international trial didn't receive full dosages of the vaccine. However, after AstraZeneca acknowledged the error in its first-phase trial and irregularities in the way it reported initial results, the vaccine demonstrated in the third-phase trial that it had a 76% efficacy against infections with symptoms after just one dose. That rose to 82% when the second dose was given 12 weeks later. Carried out in the U.K. and Brazil and elsewhere in South America, this study's third and final phase included more than 17,000 subjects and resulted in no hospitalizations or severe cases. "I'm not exactly sure what the [FDA] holdup is," says Dr. Peter Jay Hotez, dean of the National School of Tropical Medicine at Baylor University. "We urgently need this vaccine to hold off the U.K. strain now dominating the U.S." With COVID deaths in the U.S. averaging 2,026 a day over the past week, time is of the essence, especially with the appearance of new, more contagious variants. The Biden administration and Congress need to step up and speed things along. If the U.K.'s Medicines and Healthcare Products Regulatory Agency, the EU's European Medicines Agency and numerous other countries' public health agencies could clear the way for AstraZeneca's vaccine, then so can the FDA. The more the FDA drags its feet, the more lives and livelihoods will be lost.